Achievements
Formation of a Socially Meaningful Corporate Group
Cultural Property Preservation and Protection Business
Takamatsu Construction Group is proud to be one of the few construction companies in Japan that have achieved significant growth through M&A. Takamatsu Construction Group is a corporate group comprised of 21 companies, of which there are socially meaningful group companies that joined our Group through M&A. One set of companies in our Group is Kongo Gumi Co.,Ltd., Nakamura Shaji Co.,Ltd. and Shimada Gumi Co.,Ltd., that contribute in a very unique way to the preservation and protection of Japanese cultural properties.
Kongo Gumi : The Company with Longest History in the World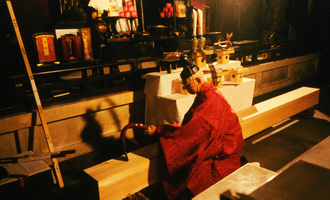 Kongo Gumi Co.,Ltd., which joined our Group in 2005, is said to be the oldest company in the world. Kongo Gumi is a shrines and temples architecture company with its history of more than 1440 years since Shigemitsu Kongo became the first president in 578A.D. as the "Sei-daiku", a carpenter in charge of protection of Shiten-no-ji temple built by Shotoku Taishi. Throughout its long history, the Kongo Gumi has consistently dealt in architecture of shrines and temples.

Although shrines and temples architecture technology has its origin deriving from China and Korea, as it passed through generations it developed into a traditional technology and culture that Japan can take pride in the world over a long period of time. The core portion of the technology and tradition was maintained and developed for many years by shrines and temples architecture organizations, with Kongo Gumi having an exceptionally long history and rich know-how. The core portion of know-how that Kongo Gumi maintained for a long time lies in "Miya Daiku Carpentry" organization. Miya Daiku are the carpenters who are involved in the construction and repair of shrines and temples. The knowledge that has been passed down from generation to generation under the Miya Daiku Carpentry organization is the core of shrine and temple architecture know-how and the skill of craftsmanship.

The expertise that Kongo Gumi inherited over the years is not limited to organization and technology but also various and unique cultural events. One of the events is "Chon-na Hajime" Ceremony (Start of the Hand Axe Ceremony). It is a traditional ceremony in which shrine carpenters mark the beginning of work for the year. Taking part in the "Chon-na Hajime" ceremony is a great honor for shrine carpenters, whereby as for generations the head of the Kongo family has taken on the duty of joining this traditional and solemn performance every year as the primary carpenter of Shiten-no-ji. The tradition continues to this day.

Although contributing to the Japanese culture with its unique organization, Kongo Gumi has suffered and overcome numerous crisis of generation breakdown that were triggered by wars, natural disasters and management crises. One of the biggest breakdown crises took place in 2005, when Kongo Gumi stepped into reinforced concrete architectures and ran into deep financial crisis. In a desperate situation where their lawyers declared Kongo Gumi that their own recovery is impossible, Takayasu Takamatsu, then the Chairperson of Takamatsu Corporation said, "Its a shame of Osaka if Kongo Gumi goes bankrupt!" and took immediate action. On the other hand, he maintained a rational thinking that "Takamatsu Corporation can only invest to a project that can gain the understanding of our shareholders. Please immediately check whether Kongo Gumi is worth existing in the future or not." and decided to conduct management support and finally, Kongo Gumi joined Takamatsu Construction Group.
Nakamura Shaji Co.,Ltd : Founded 970A.D. (1st year of Tenroku)
With its history of more than 1,100 years, Nakamura Shaji Co.,Ltd., which joined our Group in 2007, is said to be the eighth oldest company in the world. Nakamura Shaji also deals in architecture of shrines and temples. Since its foundation in 970A.D. when the first president was invited from Kyoto, the Company cultivated and passed on the skills and mindsets of traditional Japanese architecture as the group of Japanese traditional architecture professionals. Similar to Kongo Gumi, Nakamura Shaji plays an important role in our Group by possessing not only a long history but also an outstanding technology and track record resulting in top share of shrine and temple architecture of Aichi Prefecture.
Shimada Gumi Co., Ltd. : A Major Player of Excavation and Research of Buried Cultural Properties
Shimada Gumi Co.,Ltd. that joined our Group in 2012, is a company dealing in excavation, research, analysis, relocation and maintenance of buried cultural properties, as well as development of historic sites. Shimada Gumi Co.,Ltd. records a top share in this field of business among the Japanese private companies. The preservation and investigation methods of buried cultural properties are stipulated by The Law for the Protection of Cultural Properties, and companies like Shimada Gumi need to conduct the excavation when these buried cultural properties were found, and to research buried cultural properties and investigate the cultures of ancient people.
Shimada-Gumi regularly holds "Local Explanatory Meeting" to disclose archaeological site information to provide opportunities to learn about the importance of buried cultural properties as well as local culture. At the Meeting, Shimada Gumi also exhibits discovered artifacts where many historical archaeology enthusiasts and local residents participate to listen eagerly to the comments of the researchers.
Asunaro Aoki Construction Co.,Ltd. took part in "Tsukuba Kids' Ph.D. Program 2018" sponsored by Tsukuba City
Asunaro Aoki Construction Co.,Ltd. invited 100 elementary and junior high school students to TCG Institute of Technology located in Tsukuba City, Ibaragi Prefecture. With the theme "Directly seeing and touching the fun and wonders of making things", events such as "Making a pen stand with quick-drying cement", "Visiting concrete compression test site" and "Radio control operation of amphibious bulldozer" were conducted.
Summer vacation craft experience for kids and their parents by Takamatsu Corporation Co., Ltd.
Using one day of summer vacation, "Kid's summer vacation craft experience" is annually held in Takamatsu Corporation's DIY Room, which is open to kids and their parents.
We use this opportunity to teach the children the fun of creating things. With the coaching of our special staff, kids can make various crafts including chairs, bookshelves and wooden toys, and experience various crafting steps from hammering nails to final finish paintings.
Asunaro Aoki Construction Group : Donation towards Disaster Recovery
In October 2018, seven companies of Asunaro Aoki Construction Group (Asunaro Aoki Construction, Toko Geotech, Aoki Marine, Asunaro Road, M's, Niigata Mirai Construction and Shimada Gumi) visited and conducted donation to five local governments (Hiroshima Prefecture, Okayama Prefecture, Hiroshima City, Kure City and Higashi Hiroshima City). In addition, Mirai Construction visited and conducted donation to two local governments (Hiroshima Prefecture and Okayama Prefecture). The donations were collected from the individuals of our aforementioned Group Companies as well as subcontractors, totaling 10.7 million yen.
Asunaro Aoki Construction Co.,Ltd. : Solar Power Generation (Renewable Energy) Project
Demand for solar power stations has increased dramatically after 2012 by the introduction of Feed-in-Tariff (FIT) system, which is an electricity purchase system generated by solar power stations. Asunaro Aoki Construction provides technical support for the construction of solar power stations that includes planning, on-site surveys, power station proposals though licensing and designing. By the end of October 2018, Asunaro Aoki Construction has achieved 24 completion and 7 work in progress solar power station projects that include complex terrain feature sites such as previous golf course sites.
Asunaro Aoki Construction Co.,Ltd. : Wind Power Generation (Renewable Energy) Project
In fiscal year that ended March 2018, Japan's wind power generation capacity was approximately 3.5 million kilowatts, and the number of units installed was 2,253 (NEDO survey). By December 2017, Asunaro Aoki Construction built 247 units which accounts for 11% of nationwide constructions, and the installed capacity of the facilities reached 507,000 kilowatts. In order to support wind power generation projects, Asunaro Aoki Construction has implemented various technical and improvement proposals for construction of wind power stations that include on-site surveys, planning, licensing and construction. The completed sites include mountainous areas with complex terrain features that had formerly been recognized as difficult to develop.
Greening with Bio-Diversity in Mind by Toko Geotech Corporation Co., Ltd.
To realize "nature recovery by revegetation of domestic species with consideration to bio-diversity", Toko Geotech Corporatoon Co.,Ltd. has been conducting proprietary operation of seed harvesting and seed storage to be used in slope greening environment operation. Concerning future slope and surface greening operation, the demand is more towards greening operation by using domestic species, rather than using foreign species. Toko Geotech will contribute towards national land greening by preparing revegetation menu that can respond to various needs.
【Revegetation Method by Toko Geotech Corporation Co.,Ltd.】
●Eco-Stripe Revegetation Method (Non-planar Seeding Method)
This method is a combination of planned seeding and natural plant invitation works. By artificially creating green band area to invite natural seeds from the surrounding area to the construction area, surrounding green environment will promote nature restoration of the construction site with limited cost.
●Reme-Forest Revegetation Method (Natural Plant Invitation Method)
This method is a natural plant invitation promotion method by catching natural flying seeds. By putting "Seed Catcher (3D seed catching promotion net)" on top of sprayed "high tolerance basis", natural ground and Seed Catcher can be firmly adhered. This enables combination of slope protection and quick nature restoratioon of rocky slope with bumpy surface.
●Recycle Earth Green Revegetation Method (Resource Circulation Revegetation Method)
This method is a resource circulation revegetation method by mainly utilizing waste soil generated by dug-out soils and landslide soils. By re-utilizing waste soils of the construction site, usage of new revegetation resource as well as its transportation cost can be reduced, at the same time resulting in reduction of CO₂. This method can be applied to wide range of revegetation methods from rapid revegetation method to rapid reforestation method using domestic species.
●Japan Tree Seed Laboratory
Through collection of domestic seeds and proprietary technology of "early germination inspection method", this laboratory conducts seed quality inspection, issue quality certifications and seed storage technology development.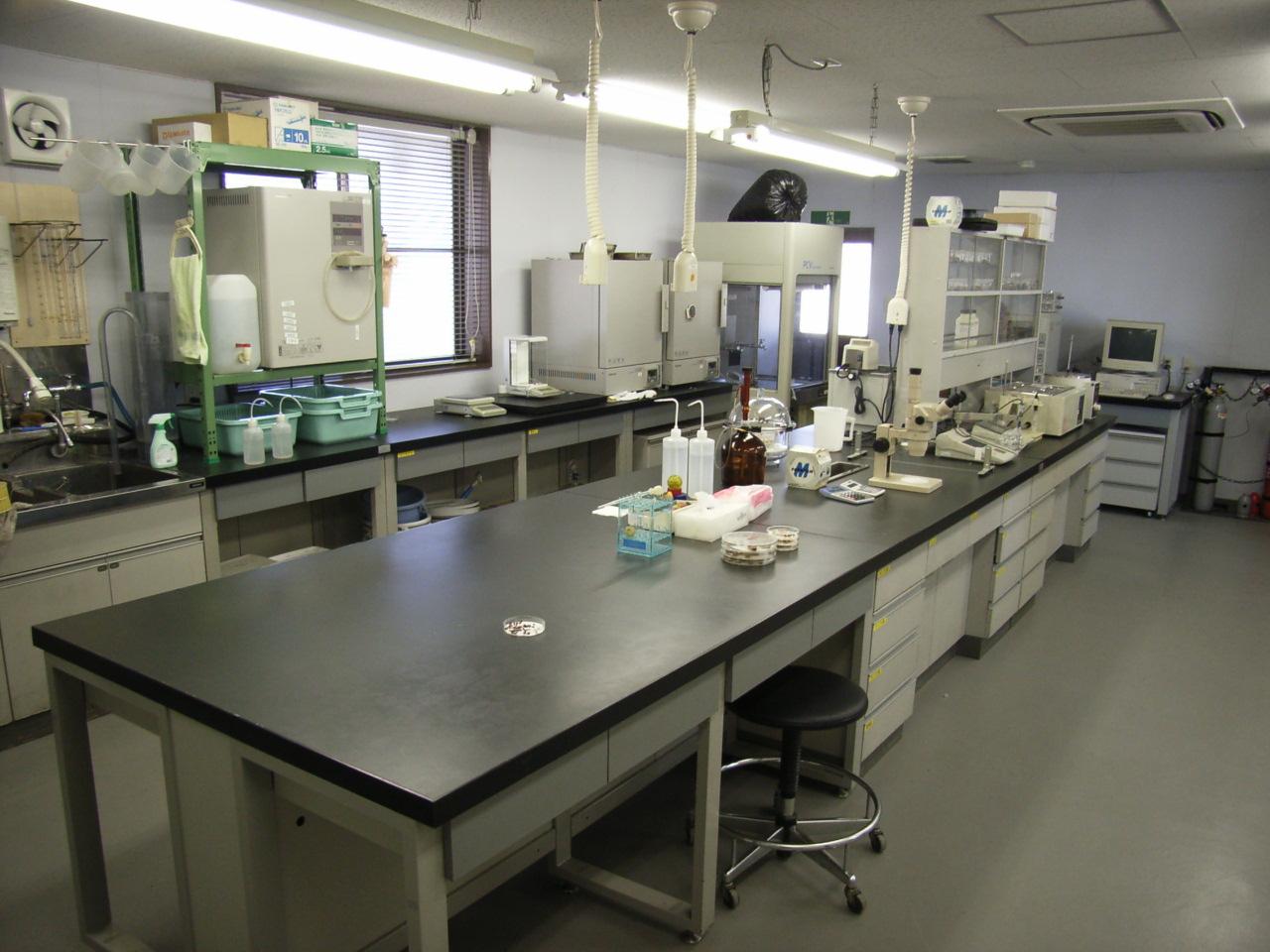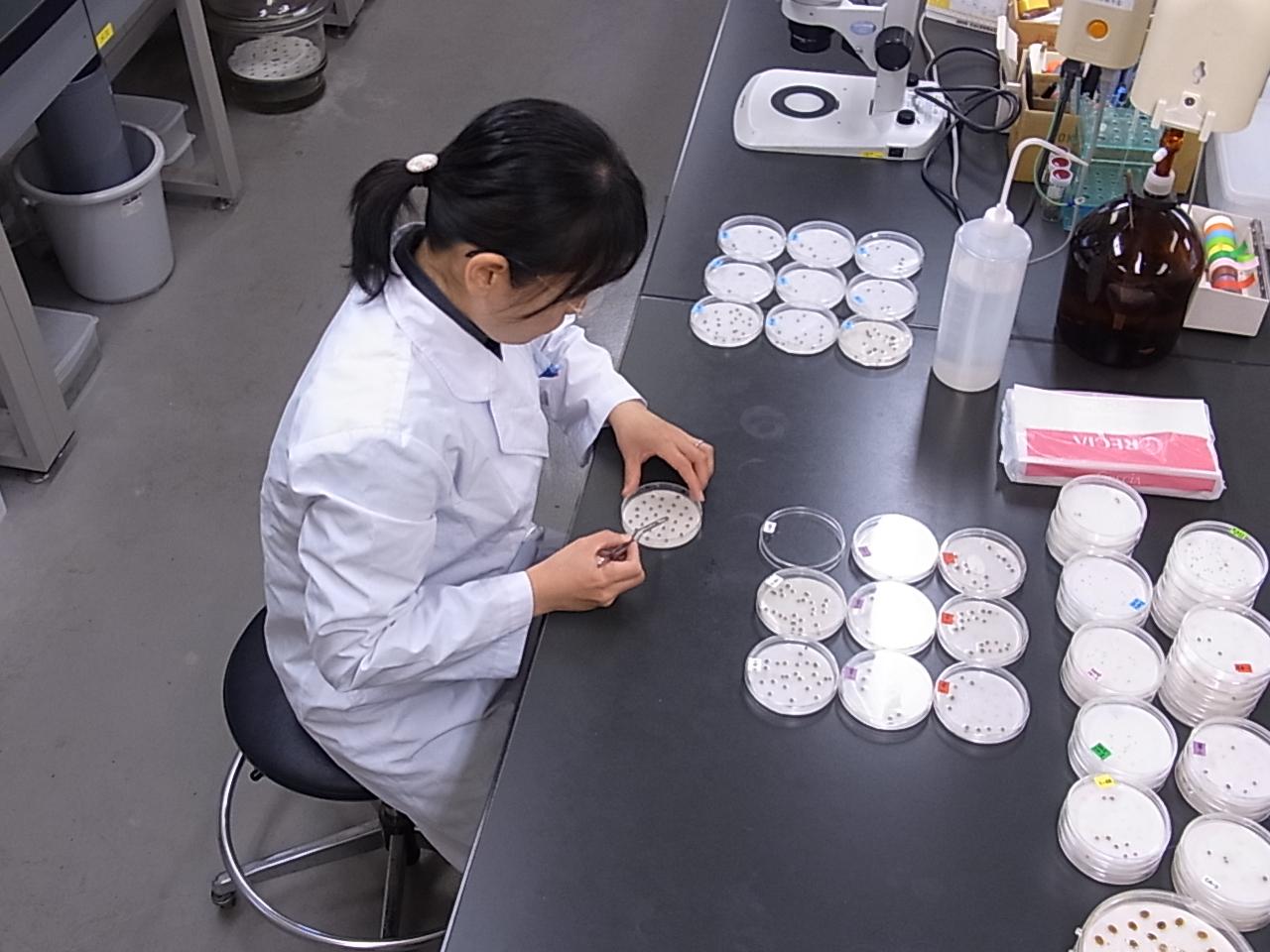 ●Seed Storage, Scaling and Packaging Center (RS Center)
This center stores domestic seeds for mid to long-term using our proprietary technology, as well as packaging, measurement and shipping of various seeds.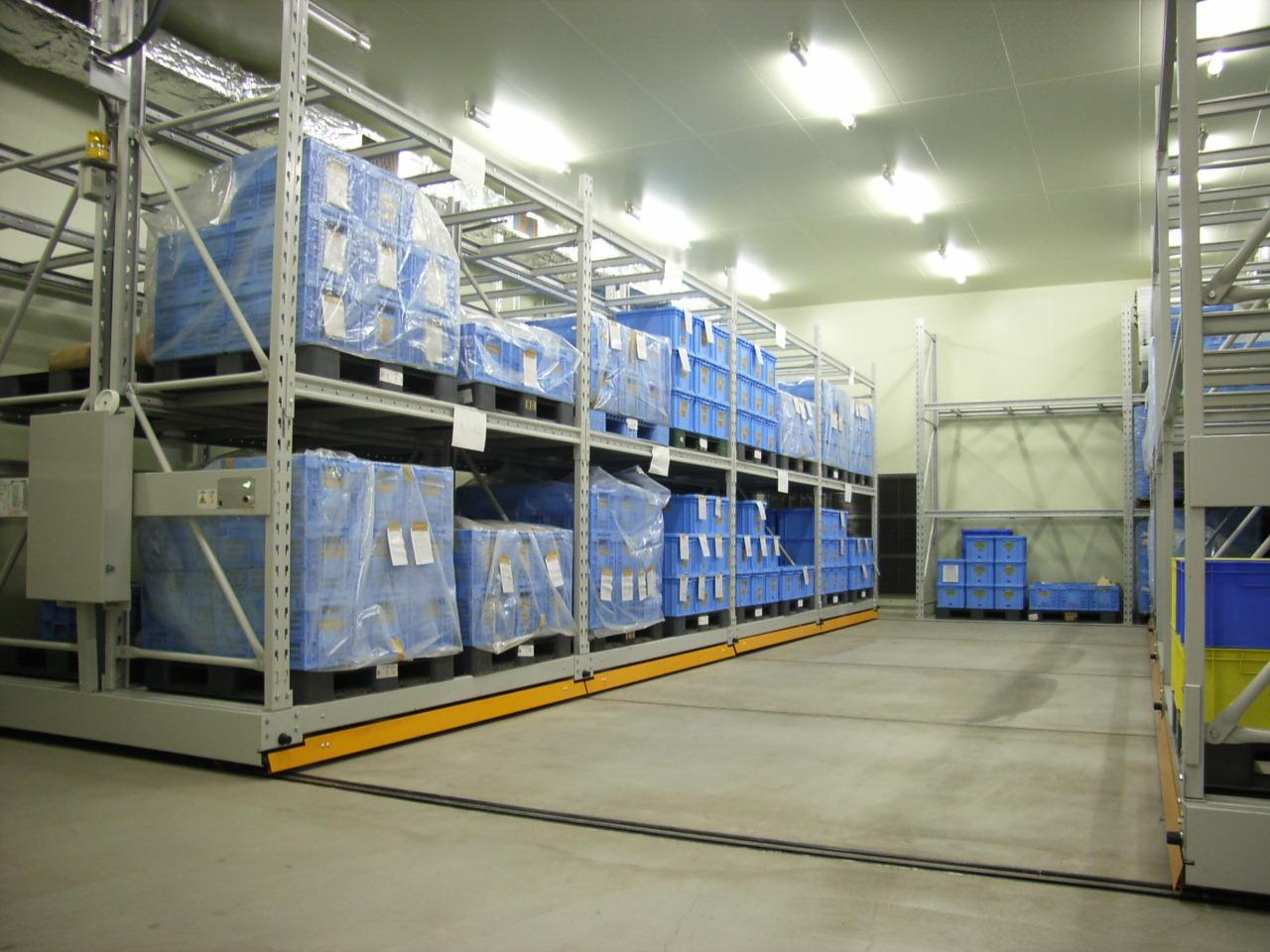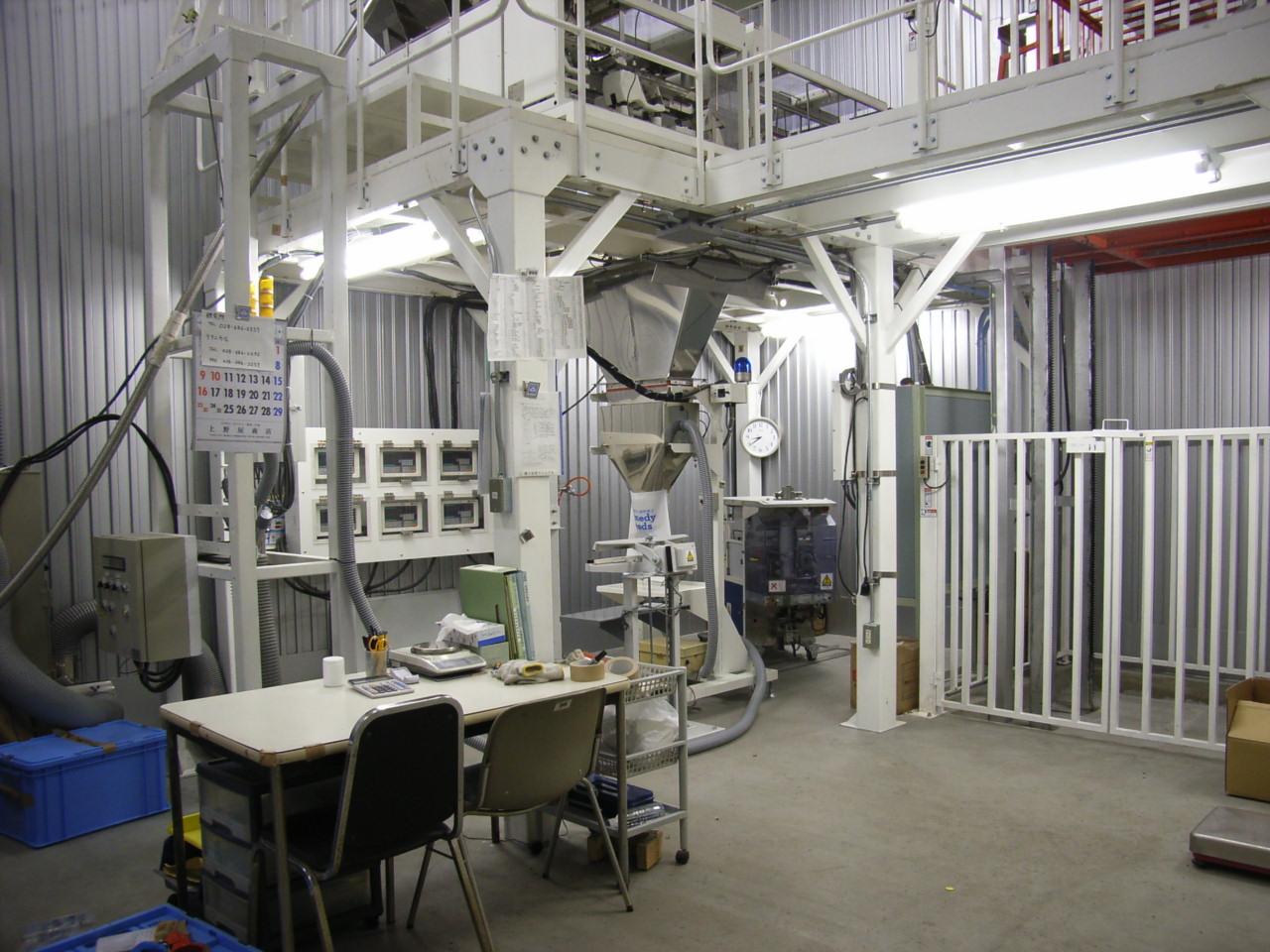 Protection and care of endangered species by Mirai Construction Co., Ltd.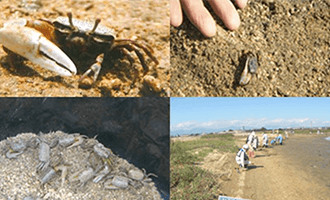 We relocated an endangered species "uca lactea lactea crab" , which was discovered in the Port Kasumigaura Northern Wharf work zone, Yokkaichi City, Mie Prefecture. The uca lactea lactea crab mainly lives in the salty marshes and estuary tidelands. However, due to the large-scale port repair, embankment and renewal, the crabs lost their habitat, causing them to be listed on the Ministry of the Environment's Redlist (2012) and Mie Prefecture Redlist (2014) as a Class 2 Endangered Species. In mid-July 2014, we were informed by local residents that the uca lactea lactea crabs are still alive along the left bank of Asake River Estuary. Along with investigating their distribution, we examined the impact by the construction and its preservation measures. With these studies, 56 crabs were confirmed (40 males and 16 females), while 33 were predicted to be directly affected by the construction (overlapping with construction range). Thus, Mirai Construction Co.,Ltd. decided to relocate the 33 crabs outside the construction range.